FP5K® Tie-Back Lanyard
The dependable FP5K® Tie-Back Restraint Lanyard uses an FP5K Carabiner which can be to be tied directly back to the lanyard. This product uses the Sure-Stop® shock absorber to keep fall arrest forces below 900 pounds. It's unique carabiner body shape helps avoid confusion with standard connectors not designed for tie-back applications.
10047087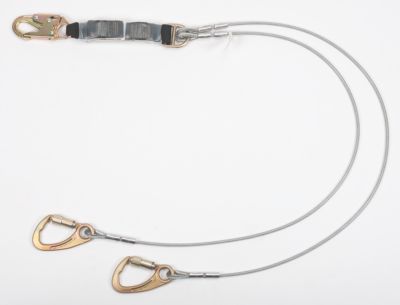 5,000 lb gate strength in any direction allows the FP5K carabiner to be tied back directly to the lanyard
Monster-Edge™ Webbing with 12,000 pound minimum breaking strength
Internal wear indicator consists of two yellow threads that, when visible, alert a user when the lanyard should be removed from service due to severe abrasion
Utilizes the Sure-Stop shock absorber to keep fall arrest forces below 900 pounds
Available in both single and twin leg configurations
Markets:
Construction, Oil & Gas, Utilities, General Industry, Mining
Applications:
Working at Heights
Approvals subject to change without notice and may differ based on configuration, part number and/or country.
Contact Customer Service or check approval label on product for specific approval information.
Meets ANSI A10.32 & ANSI Z359.1, and applicable OSHA regulations.
USA Approvals
Canadian Approvals