Featured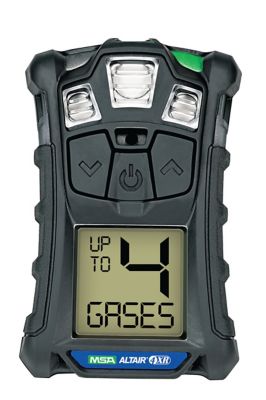 ALTAIR® 4XR Multigas Detector
Outfitted with rapid-response MSA XCell® sensors, the ALTAIR 4XR Gas Detector is the toughest 4-gas monitor on the market and is backed by a 4-year warranty. The ALTAIR 4XR can also provide real-time incident awareness to team members, supervisors, safety managers and others when paired with the MSA ALTAIR Connect app via a Bluetooth® wireless connection.
Featured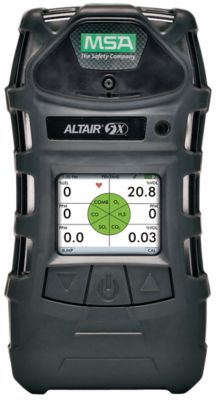 ALTAIR® 5X Multigas Detector
The ALTAIR 5X Gas Detector is capable of measuring up to 6 gases simultaneously and is now available with integrated PID sensor for VOC detection. Driven by advanced MSA XCell® Sensor Technology,  the ALTAIR 5X Gas Detector delivers  faster response time, better stability, accuracy, longer service life, and cost savings over the life of the instrument.
ALTAIR® 5 Multigas Detector
The ALTAIR 5 Multigas Detector features the brightest, most legible high-resolution display in the industry. Our 6-gas detector also boasts an intuitive menu display and large buttons for easy operation, even when wearing gloves. The patented PulseCheck® Pump draws its power from the battery pack, which means the pump doesn't need a separate power supply. The detector also features exclusive the MotionAlert™ system, which lets others know if the user has become immobile, and InstantAlert™, a manual alarm that alerts others if a dangerous situation arises. * Multigas detector tests for ammonia, chlorine, hydrogen cyanide, phosphine and sulfur dioxide * Convenient display features brightest, most legible view in the industry * Miniature catalytic combustion sensors reliably detect up to 100% of LEL combustible gases, including many solvents * MotionAlert option tells others that user has become immobile * InstantAlert provides manual alarm to alert others of a dangerous situation * Reliable MSA Galaxy® Automated Test System provides easy calibration and record keeping * Versatile MSA Link™ allows user to transmit data to a computer * Choice of 18 Preprogrammed languages for global versatility * Rubber over-molded housing provides excellent grip, and water- and dust-resistant shell * Rechargeable lithium-ion battery provides lengthy battery life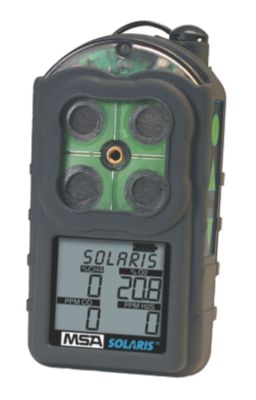 Solaris® Multigas Detector - MSHA
The Solaris Multigas Detector has all the features you want and need in a portable multigas detector—including low cost and easy-to-use compact size. The Solaris Mutigas Detector offers simultaneous carbon monoxide, oxygen, hydrogen sulfide, and combustible gas detection with both audible and vibrating alarms. Powered by a rechargeable lithium ion battery for 14+ hours of run time and a recharge time under 4 hours.